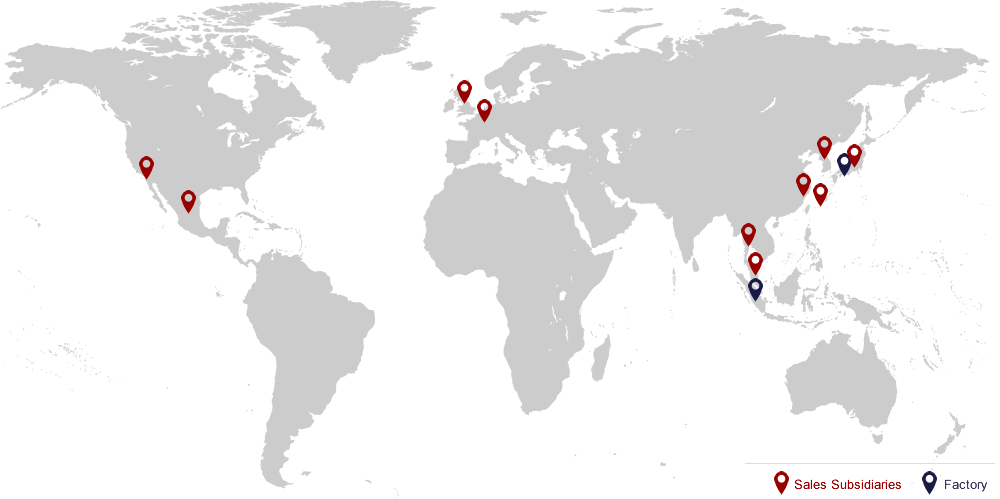 The PATLITE Company has already built a global network in the market with coverage of 50 or more countries in the world. PATLITE has sales offices established at 9 branches in Japanese domestic market, in Los Angeles, Neuss, Shanghai, Seoul, and Singapore, with a system that is ideal to provide the best solution for the customer by including two factories in Sanda, Japan and Batam Island, Indonesia to distribute PATLITE products throughout the world. PATLITE's global strategy is by promoting its products and aiming to become a No.1 Shareholder in the world, focusing on the Americas, Europe, China, and the Asia/Oceania regions.
PATLITE(U.S.A.) Corporation
PATLITE MEXICO S.A. de C.V.
PATLITE Europe GmbH
PATLITE UK LTD
PATLITE(CHINA) Corporation
| | |
| --- | --- |
| Address | Post Code: 200072 Room706-707,Baohua Internation Plaza,Lane.555,Guangzhong Road(West),Jing an District, Shanghai, China |
| Phone | +86-21-66308969 |
| Fax | +86-21-66308938 |
| E-mail | sales@patlite.cn |
| URL | https://www.patlite.cn/ |
PATLITE KOREA CO., LTD.
PATLITE TAIWAN CO.,LTD.
PATLITE(THAILAND) CO., LTD.
| | |
| --- | --- |
| Address | Olympia Thai Tower, 15th Floor 444 Ratchadapisek Road Samsennok, Huay Kwang Bangkok 10310, Thailand |
| Phone | +66-2-541-5431 |
| Fax | +66-2-541-5429 |
| E-mail | |
| URL | https://www.patlite.co.th |
PATLITE(SINGAPORE) PTE LTD
PATLITE Corporation Head Office
PT.PATLITE INDONESIA
| | |
| --- | --- |
| Address | Lot 321 Batamindo Industrial Park,Jalan Beringin Mukakuning, Batam 29433,Indonesia |
| Phone | +62-770-61-1123 |
| Fax | +62-770-61-2444 |