NH-FV
Network Monitor MP3 Voice Annunciator Signal Tower
Network monitoring and real-time notifications of predesignated events and device failures via visual signals, voice annunciation, and email alerts.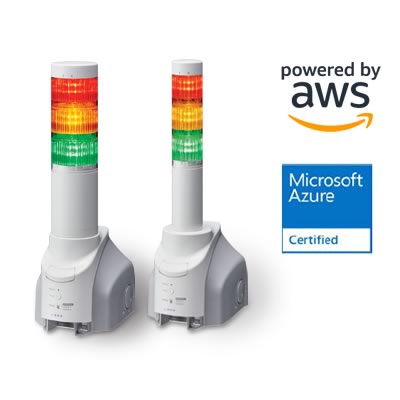 Product Details
Cloud Communication
Email
SNMP
HTTP
MP3
| Rated Voltage: | 24V DC |
| --- | --- |
| Tiers: | Up to 5 |
| Body Color: | Off-white |
| Mounting: | Stationary / Partition Mount / Wall Mount |
| Terminals: | 4 Digital Input / 1 Digital Output |
| Protocol: | HTTP / SNMP / RSH / PING / SLMP / SOCKET |
| Sound Pressure: | 88dB (at 1m) |

Features
Function
Applications
Optional Parts
Compatible with AWS and Microsoft Azure for Cloud Application Monitoring
Audible alarm and MP3 voice alert functions
Modify Settings and MP3 voice alerts via web interface
Monitor network device status using various protocols
Compatible with DHCP
Built-in digital output and contact input
Line out for external speakers
USB port for flash drives to update firmware, download event log, import/export settings, edit MP3 voice alerts
Modular LED units for easy reconfiguration
Clear Switch to return visual or audible alerts to "alerts to pre-alert status"
Reset Switch to reboot the device
Test Switch to cycle through all segments
Monitoring Functions

Email Transmission
Send email alerts of various network events to up to 8 addresses. The subject and body can be customized and can be automated to be sent in a variety of situations.
PING Monitoring
Ping up to 24 nodes simultaneously. While Ping is a basic diagnostic tool, the NH Signal Tower is able to notify you based on your priorities. For example, low priority ping response failures may trigger a flashing light, while higher priority failures will trigger an MP3 voice alert and send an email alerts, in addition to a flashing light.
Application Monitoring
Improve processes with earlier problem detection. The NH Signal Tower constantly monitors the performance of software and web applications and promptly alerts you before issues become worse.
Trap Monitoring
As one of the oldest standards for network equipment fault notification, most network devices support SNMP traps. The NH Signal Tower is able to send, receive and analyze trap information and respond appropriately.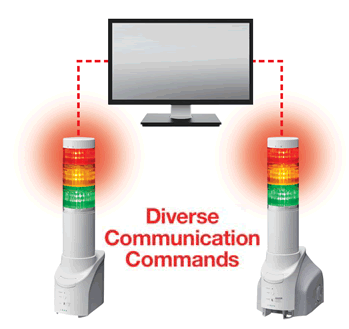 HTTP Command
HTTP (Hypertext Transfer Protocol) is an application-layer protocol designed within the framework of the Internet protocol suite. The NH Series accepts HTTP commands sent through a web browser or PLC to trigger NH Series visual and audible alert functions.
RSH Command
Remote Shell (RSH) is a command line program that executes shell commands on remote hosts such as the NH Series. RSH can be used to automatically run commands based on event information from network management software and various monitoring tools on the NH Series to trigger visual and audible alert functions.
SOCKET Communitation
Sockets allow communication between PCs and is used in a client-server application framework. The NH Series accepts an application-level protocol called PNS (developed by PATLITE) to establish connection between client and server and to control visual and audible alert functions.